Over the past couple of years, I have had many conversations with my brides that go something like this,
Bride: I adore this bouquet I saw in Martha Stewart magazine. I love the peonies, the roses, the trailing vines…Can you do something like that?
Me: Of course. Now what's your budget?
Bride: Oh, I don't know. I want to keep costs minimal but I really want the flowers to look amazing.
Me: Ok, well that bouquet will probably cost around $350.
Bride: how much?????
And I sympathize. I really do. Until they start planning their wedding, most brides have never purchased flowers outside of the farmers market or the grocery store. They have no idea of the cost involved for the basic materials, time or labor that goes into creating a single bouquet.  Flowers are rare, perishable and imported and those words never describe a cheap, mass produced item. They start out expensive and then they are hand crafted into bouquet or centerpiece or boutonniere.
I recently came across this article on Pink Blossom List, a blog for vendors in the wedding industry, that asked florists in different areas of the country how they would price  three types of arrangements. Here's an excerpt,
How much would this Martha Stewart bouquet cost in your city?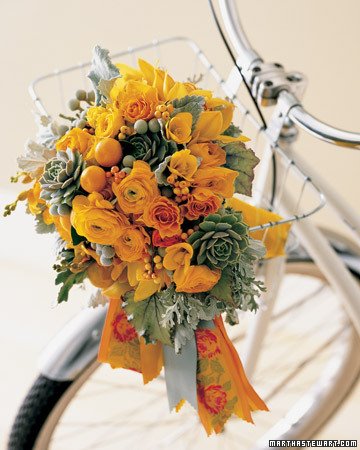 From Flower Divas to Soiree Floral, Studio Stems to A to Zinnias, this is what they would charge for this beautiful, marigold, grey, and soft green bouquet featuring ranunculus,freesia, mini succulent, berzilia, dusty miller and finished with vintage inspired seamstress ribbons.
How about a medium sized full, vintage inspired centerpiece like this one?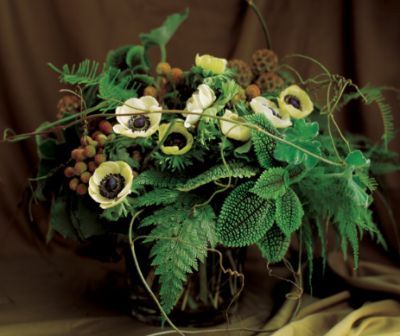 From California to Connecticut, Utah to Michigan, this is what florists would charge for this eco-green centerpiece of anemones, brown berzilia baubles, scabiosa pods, leather fern, sword fern, scented geranium and jasmine vines in a glass cylinder created by Lewis Miller of LMD Floral Events in NYC.

And what about a large, lush, lavish centerpiece like this one that appeared in Brides magazine?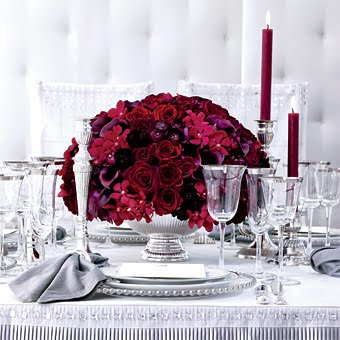 It's a classically styled centerpiece that would work for any season. The uniformity of the blooms and the near monochromatic color palette make a strong statement. This striking centerpiece uses a variety of deep red and dark plum-red flowers including deep red roses, reddish plum rananunculus, dark reddish plum mini callas, and red orchids. And the cost…?
Tomorrow I'll discuss what accounts for the varying costs, where Seattle falls in the price range and what you can do to lower the cost of your wedding flowers. Stay tuned!