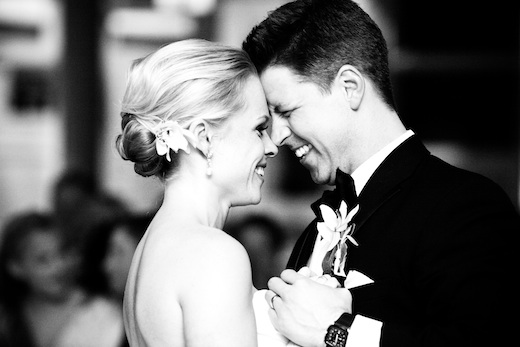 I think Tess would agree with me that she and Ryan chose the perfect time of year to get married – peony season! We share a love of the fluffy, fragrant beauties and I was keeping my fingers crossed for a lull in the rain and some sunny weather so I could use them in their wedding flowers. No such luck on the rain, or the sun, but fortunately Eastern Washington has a different climate altogether from the Puget Sound and a few stems started making their way westward so I was able to use them sparingly in the bouquets and centerpieces. I've already shared one of the church arrangements here but here are a few more images courtesy of the fabulous Angela and Evan Photography…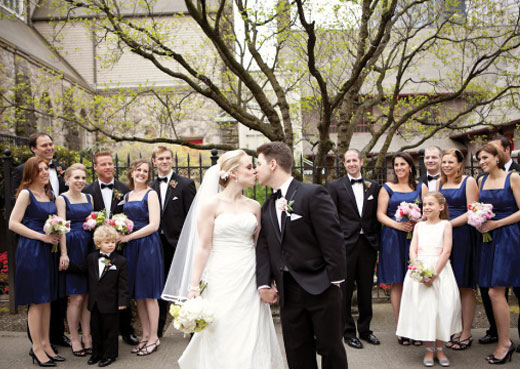 Tess' bouquet was mainly comprised of white peonies. I wrapped the stems in lace and tied Tess' parents wedding rings onto it as a sweet reminder of her late father. It looked so pretty against her simple, strapless wedding dress!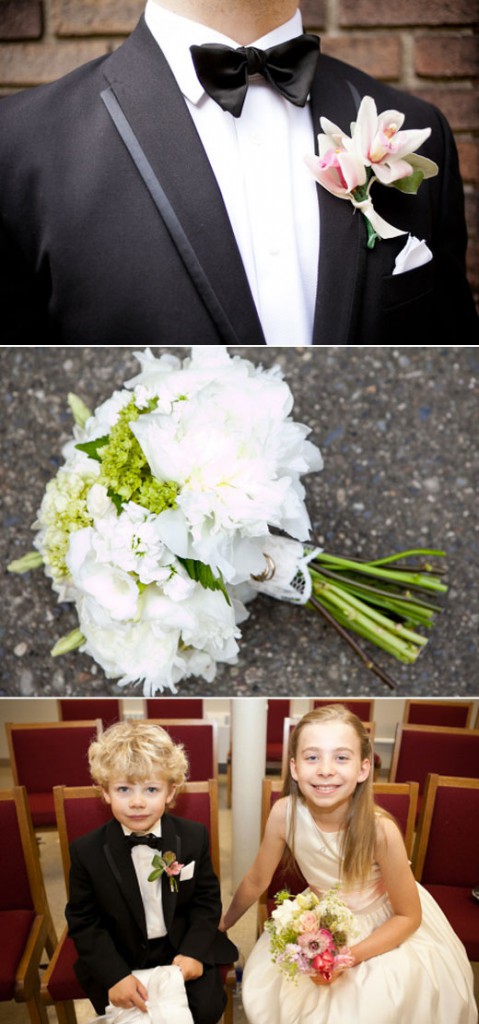 The bridesmaids bouquets were pink and green with tones ranging from blush to magenta. The groomsmen's bouts had pink dogwood and scabiosa pods with the groom's made up of two white and pink cymbidium orchids to match the bride's hair piece.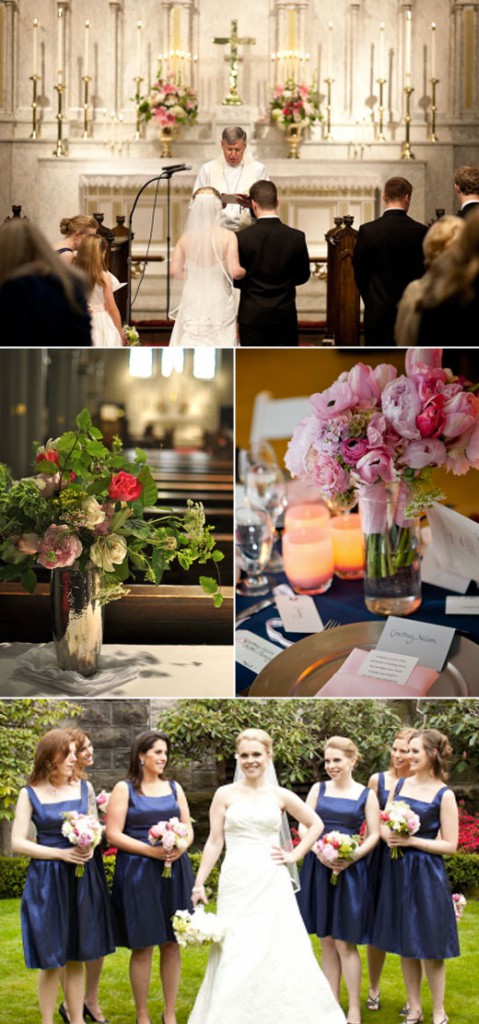 The Rainforest Pavilion at Woodland Park Zoo was hung with pink and green lanterns and lengths of ivory fabric to mark the dance floor. The tables were covered in navy blue satin tablecloths, blush pink napkins and gold chargers. I wanted to keep the centerpieces  loose and romantic so I filled footed silver bowls with peonies, scabiosa, queen anne's lace, freesia and roses. They smelled amazing and the silver bowls reflected the light from the pink Glassybaby votives.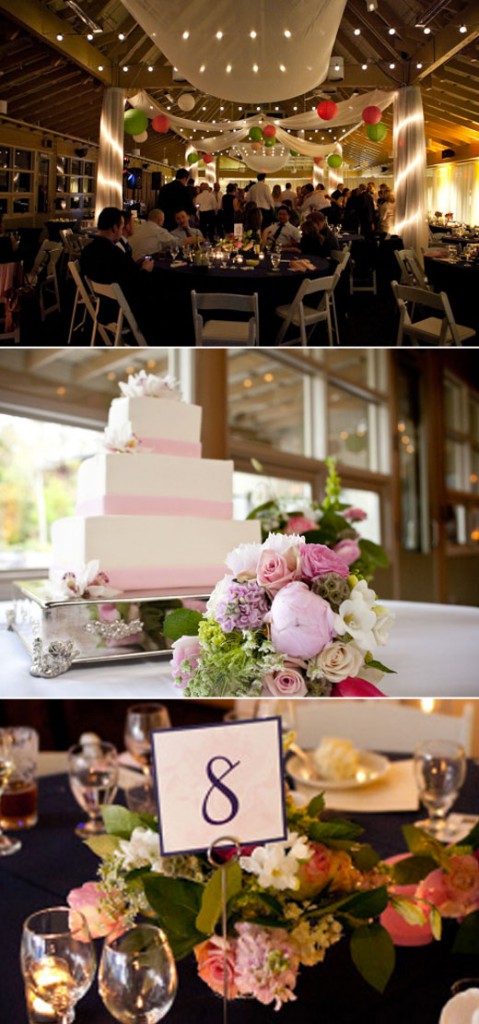 Tess and I had our first meeting at Top Pot donuts and when she confessed that she had a weakness for the sweet treats and was looking for something fun to serve later in the evening, donuts seemed an obvious choice. I love the mini cartons of milk she added. So cute!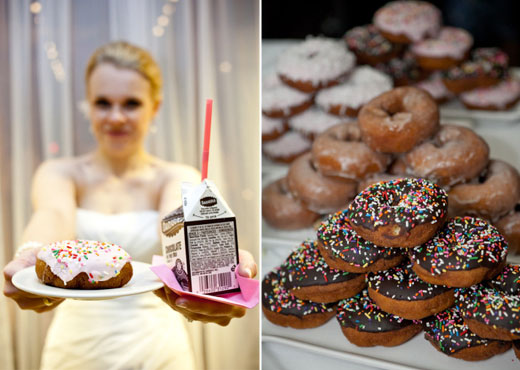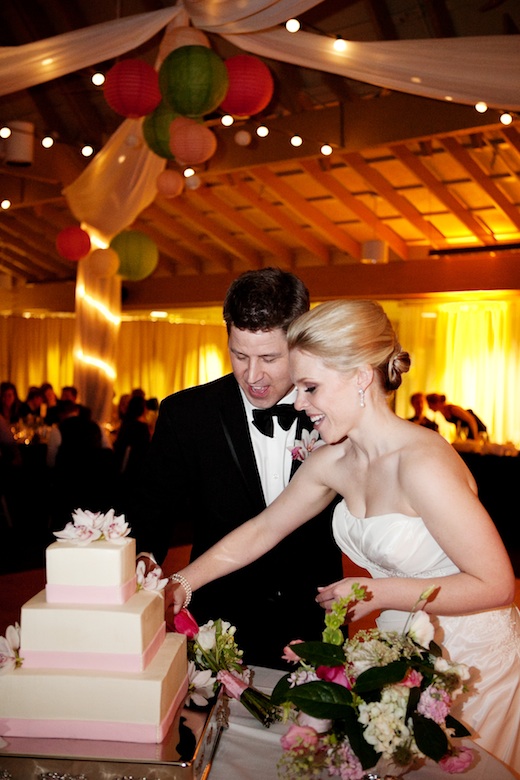 And so where does the peacock come in? Well, just as we finished setting up the reception space, it started to rain. No light NW misting either, think absolute torrential downpour. As I was running to my car, encumbered by boxes and buckets, I noticed this flash of green and blue to my right and low and behold the zoo's resident peacock was racing along beside me, apparently also seeking shelter in my open car trunk. I don't know which of us was more surprised! Fortunately, I out-ran him and slammed the door shut before he could jump in and after some angry squawking he swooped around and headed back towards the zoo.  Imagine if I had driven home with a peacock in the back of my car? I'm not sure how I would have explained that one to the zookeepers…!