{ Wednesday, June 22, 2011 }
category: Aisle Decor, altar arrangements, Bouquet, Boutonniere, Corsage, event design, floral design, Home, Modern Decor, vintage decor, Weddings
I worked with Laura and Majid for a full year on the design of their wedding, so as you can imagine the style and palette changed a bit here and there but the final result was well worth the extra work. I loved the unusual plum and marigold color palette from the start – such a fun and vibrant look – but Laura wanted a vintage twist so we settled for blush pink and grey accents to tone things down.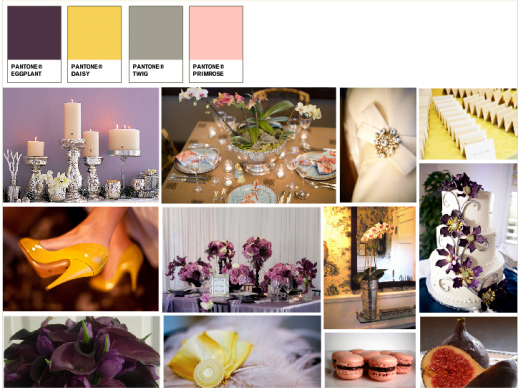 The Edgewater is a great venue – stunning location with gorgeous crystal chandeliers contrasting with a modern wood paneled ceiling – and their staff is super helpful. As I was setting up, the room was so warm that the tulips and dogwood was starting to wilt – a florist's nightmare! The banquet manager kindly turned on the AC for me and everything perked back up. Phew!
These pictures are all by the talented Angela and Evan Carlyle.