Seattle is well known for its unofficial dress code – jeans and fleece. You could pretty much wear that combination to any restaurant in the city and no one would blink an eye. I've even worked weddings where a guest or two will show up in jeans! Now don't get me wrong, I love living in Seattle and I appreciate the fact that I don't have to get too dressed up to go out, but this real flower necklace I made for a shoot earlier this spring could just about make me wish for my black tie Symphony gala days…or at least a fancy cocktail party.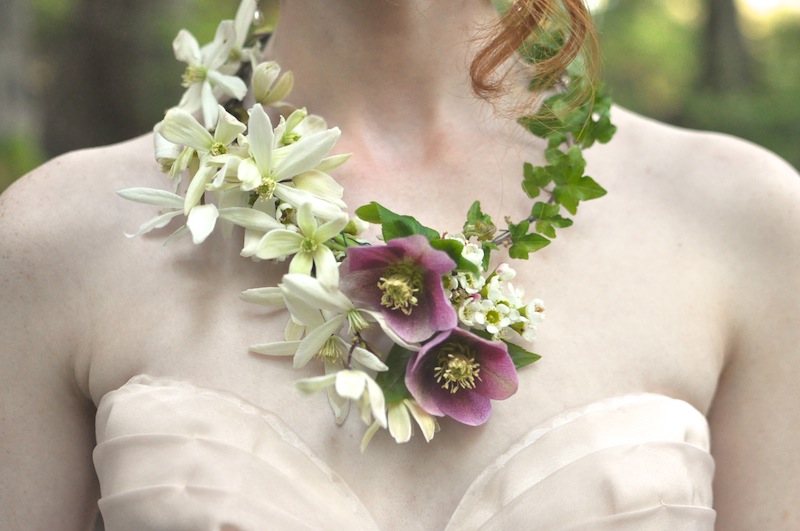 Dress: Sarah Seven for The Dress Theory
I recently worked on a commercial shoot for The Dress Theory, a stunning new bridal shop in Greenlake with some of my favorite ladies. On a dreary November day in a Pioneer Square studio, Camille's beautiful bohemian designer dresses (Sarah Seven! Claire Pettibone!) lit up the room and her sweet little pup June provided endless entertainment.  Julie Harmsen took these lovely pictures, Jenn Blake of Scout provided the vintage rentals and styling, Jenny Bowker styled the hair and makeup and I created a few floral pretties to accessorize the gowns (and hair, and dog). A romantic bouquet of cafe au lait dahlias, antique oak leaf hydrangea, astilbe, herbs, pepper berry and lipstick pink anemones popped against the gowns while a pepper berry crown accented Kaitlin's beautiful hair. For tiny June, I made a sweet little collar of herbs that she also wore as a crown. The models were stunning but June was definitely the star of the show.