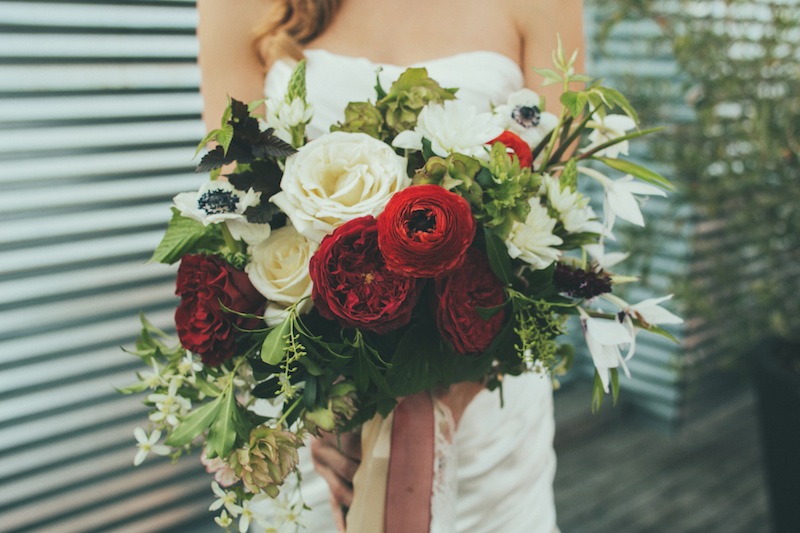 Kristin and Gary's Fall wedding at Within Sodo has been published on Style Me Pretty today so I can finally share all the details and Chantal Andrea's gorgeous pictures here! This was far from a traditional wedding – no sit down dinner, no bouquet toss, no cake cutting and a professional stage setup for the band (with musical cameos by the Groom, Groomsmen, both Fathers, and the Groom's grandfather)! Half the guests had flown in from the UK and Kristin and Gary really wanted to ensure that everyone had a wonderful time and got to experience a real Pacific Northwest atmosphere.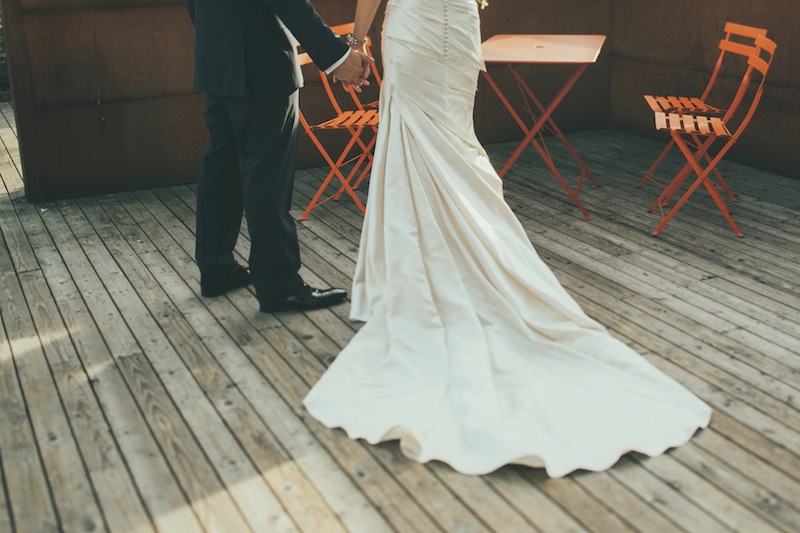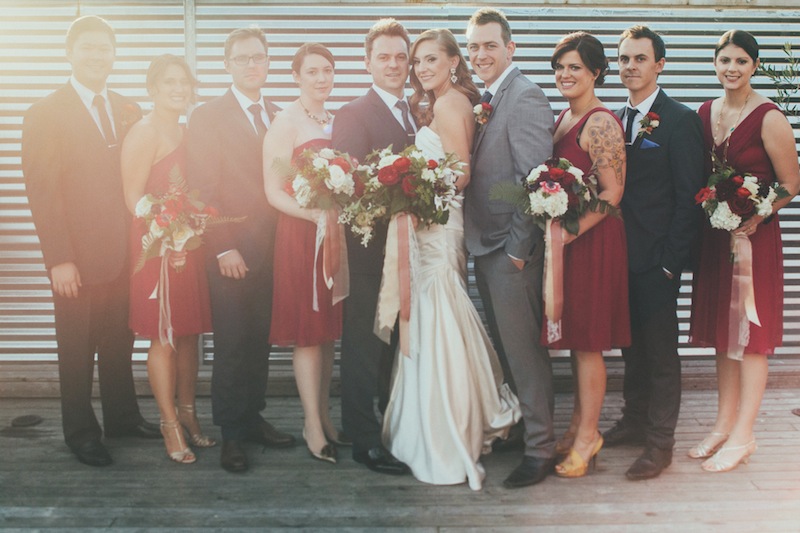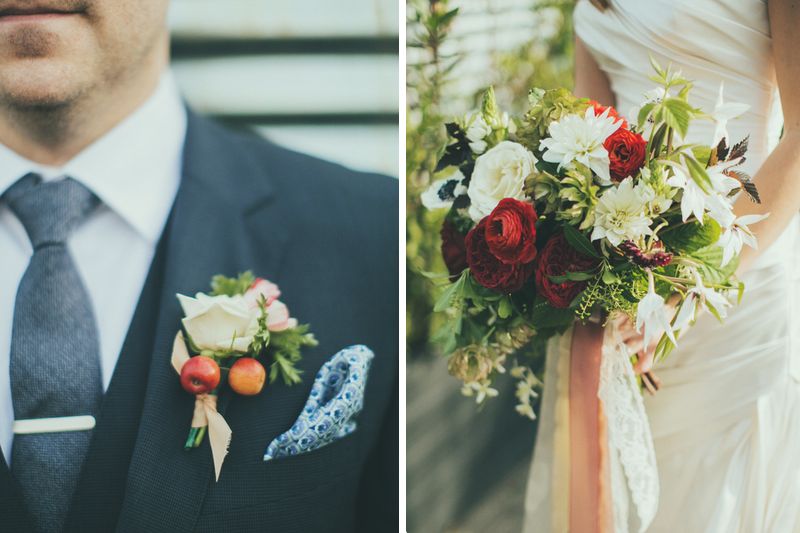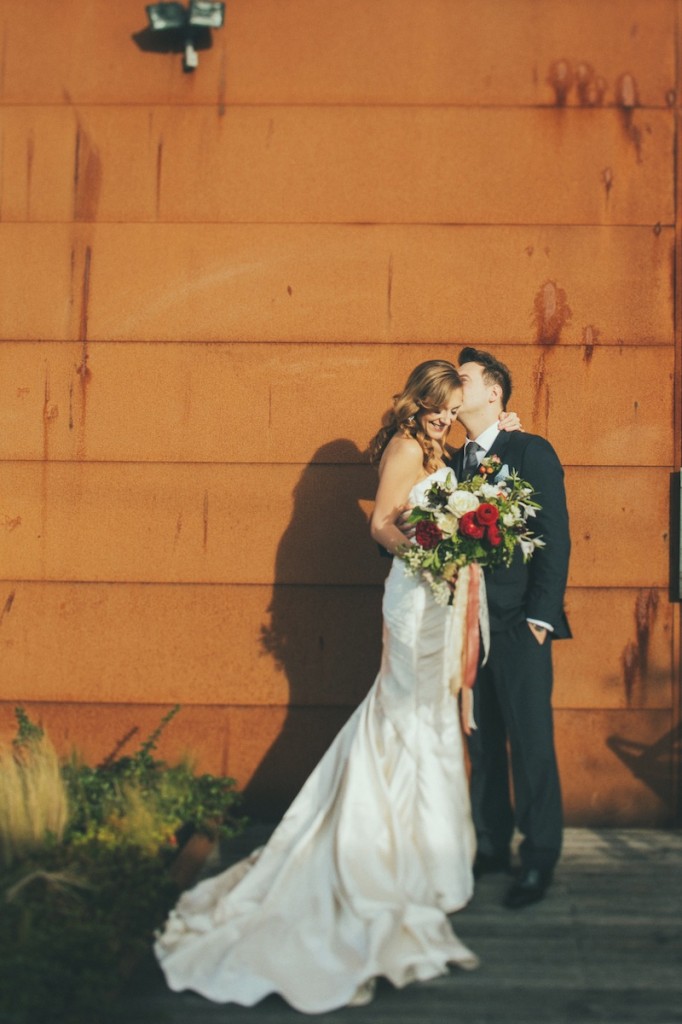 They wanted the wedding to reflect their cultural differences – Gary is British and Kristin is a Washington native – and show off the beautiful city where they had made a home together. They picked a very urban, warehouse style venue with a rooftop deck, their favorite local tapas bar to cater, Macrina Bakery to provide the desserts and Kristin's dad's pub in Anacortes provided the beverages, Rainier beer included.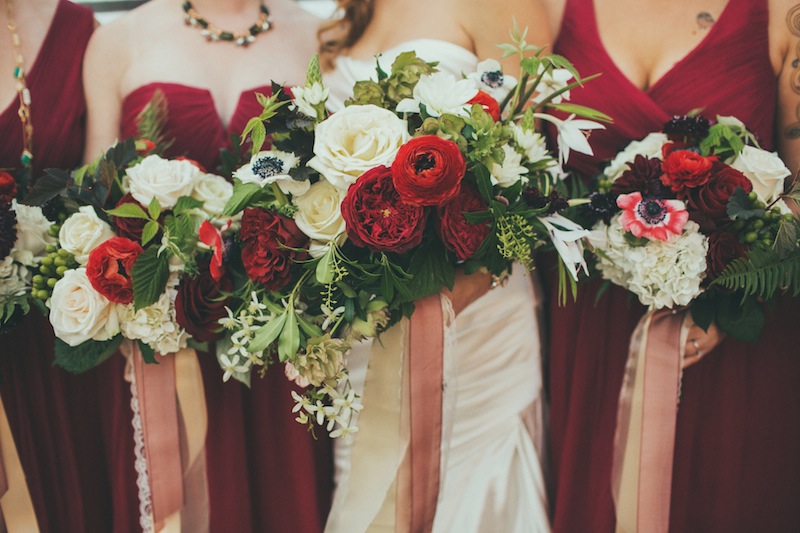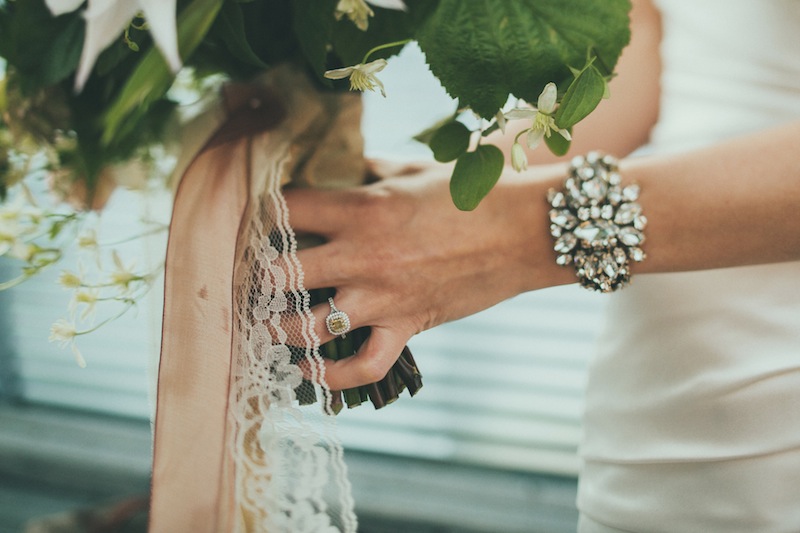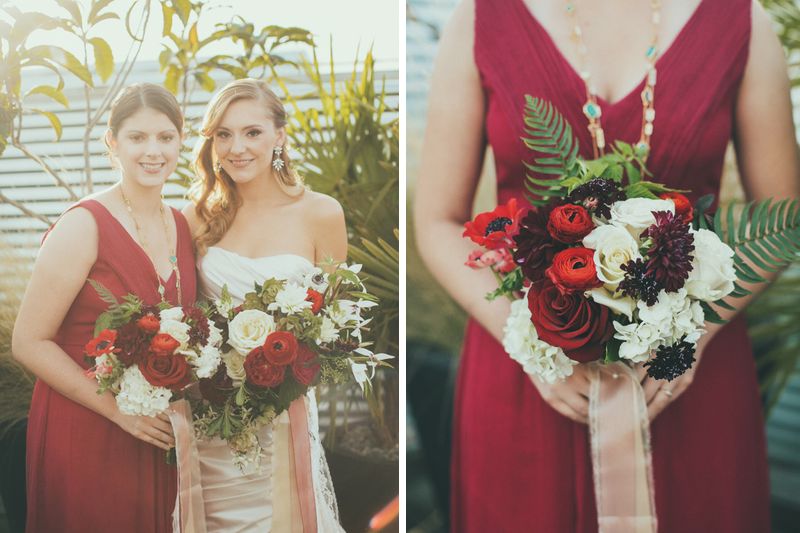 Kristin and Gary's wedding was a dream to design because the couple was so open to pushing the envelope design-wise. We wanted to highlight the urban feel of the venue, Within Sodo, but also bring an air of glamour and elegance to the space. We picked a color scheme of navy, cream, red and burgundy so we could use the beautiful local fall flowers and foliage that Kristin loves. The ceremony backdrop that we created out of a Magnolia leaf garland hung with industrial bulb lights and decorated with garden roses was a design highlight.
We also decorated the buffet tables and dessert buffet with the same magnolia garlands and large, overflowing gold urns filled with garden roses, crabapple branches and dahlias. The centerpieces alternated with gold urns on the larger tables and a smokey grey glass vase on the bistro style seating near the stage. We hung giant greenery chandeliers in the main room and Polish glass lanterns twinkled above the dessert table.
Photography: Chantal Andrea | Floral and Event Design: Finch & Thistle Event Design | Venue: Within Sodo | Linens: La Tavola | Vintage Furniture: Vintage Ambiance | Catering: Pintxo | Desserts: Macrina Bakery | Bar: H2O Anacortes